Overview
The Surgical Pathology fellowship program at GW offers comprehensive training in diagnostic surgical pathology in the setting of a busy academic hospital. The surgical pathology fellow spends ten months working on the Surgical Pathology Service, functioning as a junior attending pathologist with appropriate supervision and instruction provided by our senior faculty. During this time, the fellow assumes sign-out responsibility for a large number of surgical cases and covers the intraoperative consultation/frozen section service on a rotating basis. The case material is varied and includes representative specimens from essentially all organ systems. Numerous ancillary services, including immunohistochemistry, electron microscopy, flow cytometry, and molecular diagnosis, are available on-site. The fellow is involved in a number of intra and interdepartmental conferences, including multiple tumor boards and a daily consensus conference for difficult and/or interesting surgical cases.  The fellow also participates in the quality assurance and administrative activities of the department.  Participation in the teaching of medical students and pathology residents is an intrinsic part of the fellowship, and research activities are encouraged.  Two months of elective time are provided, during which the fellow may pursue specialized experiences in the department or at nearby outside institutions, including NIH, AFIP, and others.
Foreign Students & Visa Sponsorship
For Graduate Medical Education at George Washington University
J-1 (Exchange Visitor Visa) sponsored by the Educational Commission for Foreign Medical Graduates (ECFMG). Application is processed by the GME Office. The resident/fellow must meet the criteria of the ECFMG for sponsorship. Note: The J-1 must be a clinical J-1 and not a research J-1.
Permanent Resident
Visas NOT accepted/sponsored for Graduate Medical Education at George Washington University:
H-1 B – The University does not sponsor foreign national physicians for Graduate Medical Education programs for the H-1B visa​​​
O-1
ECFMG requires a valid ECFMG certificate obtained by successful completion of their qualifying examinations coupled with the appropriate English language examination to be eligible for a visa. Allow 120 working days for ECFMG to process an initial visa.
For further information, please contact:
Education Commission for Foreign Medical Graduates
3624 Market Street
Philadelphia, PA 19104-2685
T: (215) 386-5900
District of Columbia Medical License
Fellowship trainees are required to obtain a full DC medical license before starting a fellowship at GW SMHS.
Current Openings
Academic year 2022-2023 - Filled
Academic year 2023-2024 - Open
Academic year 2024-2025 - Open
Application Process
Application Timeline
June 1, 2023: Accepting applications
July 5, 2023: We will begin reviewing application files
August 14, 2023: Start of interviews for 2025-2026 positions (All interviews will be virtual)
October 2, 2023: First day offers will be made for 2025-2026 positions
To Apply, please send the following materials to the fellowship coordinator.
Completed CAP Standardized Application Form  application form
Personal Statement
Curriculum Vitae
USMLE Steps 1, 2, and 3
3 letters of recommendation, one from your Residency Program Director
ECFMG Certificate (If applicable)
(Please note you will have 72 hours to either accept or decline an offer)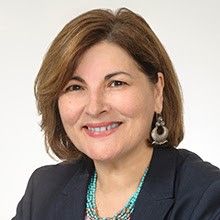 Antonia R. Sepulveda, M.D., PhD
Professor & Chair, Department of Pathology
George Washington University School of Medicine and Health Sciences
Chief of Pathology & Director of Clinical Laboratories
George Washington University Hospital
Please email your application materials to:
Muna Ali
Program Coordinator, Fellowships and Residency
2300 M St. NW, 7th Floor
Washington, DC 20037
muali@mfa.gwu.edu
(202) 741-2251