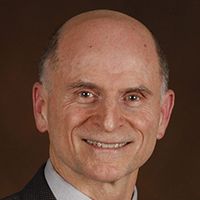 Dr. Donald Karcher, Professor and Chair of Pathology at the GWU Medical Center, wins election to the Board of Governors of the College of American Pathologists (CAP). The CAP is the preeminent organization of pathologists in the US, with over 18,000 members. Dr. Karcher has been very active in the CAP for many years and has assumed multiple leadership positions in the organization.
Dr. Karcher has been on the faculty in the GWU Department of Pathology since 1984 and served first as Acting Chair and then Chair of Pathology since 1999. He has a long history of leadership in the academic and greater pathology community. Since 2014, he has served as President of the Association of Pathology Chairs, the organization of academic departments of pathology in the US and Canada. His work with the CAP, APC, and other organizations has centered on the role of pathologists in emerging new value-based health care delivery models, such as ACOs, involvement of pathologists in clinical informatics, and improving the preparation of the young pathologists for the modern practice of pathology.
For more information about Dr. Karcher's career, his work with the CAP and other organizations, and a message from him regarding the upcoming CAP Board election, view the documentation.